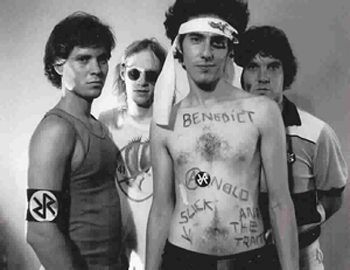 Benedict Arnold and the Traitors (1980-1983)


Benedict Arnold and the Traitors released "Kill the Hostages" in 1980 on Putrid Records, the band's own label.
Benedict Arnold and the Traitors were a unique band that blended political and social issues into punk as they saw it. They released the highly offensive "Kill The Hostages" single at the heighth of the hostage crisis between the U.S. and Iran and caught a lot of negative press for it. They existed on what they saw as the fringe of the scenster punk scene and tried their best to annoy and offend everyone. The band started in 1980 and lasted until 1983 when they changed their musical direction and became the Antinomians for a brief stint before changing once again into The Hundredth Monkey. During their brief run, they managed to release one 7" single and one 7" EP of quirky aggro punk.

Benedict Arnold and the Traitors are still active, but rarely surface. They are working on some new studio material and may grace us again with their presence at some point in the future.