SOCIAL TASK:
THE EARLY YEARS-1978 In Orange County, beach cities were churning out fast raw cutting edge punk rock with a unique distinct sound. Standard four verse, four chorus patterns were now giving way to more innovative style's created in Huntington Beach. During this time, 1978 there were approximately nine bands creating this beach city sound with varying numbers of fans following each group. The scene was divided into two distinct groups: "Day Glo" punks and the "Black Jacket" punks.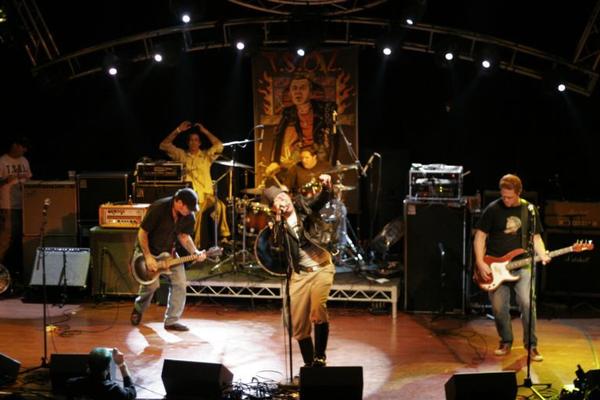 South of Beach Blvd near Pacific Coast Highway was the small Surfside community which fielded two bands: The Outsiders (a.k.a The Fucked) and The Slashers spawning a violent form of beach city punk rock. Still, further south near Brookhurst Street and Bushard Ave, were Day-Glo elements of The Crowd and The Voyeurs and the fans were predominately surf punks. Between these two scenes, various other bands formed in the Shorecrest West area of Burke Tract. From here, you would find bands like The Klan and The Screwz and The Idols, Non-Fascists and Fourth Reich. It was from here, the talent was drawn from to eventually form up a band, Sisunik: would dub the phrase "Social Task". Edison High School, became the median ground zero for hundreds of beach city punk rockers which by 1980 numbered nearly 600 in one high school of about 5,000 students. From this fan base, Punk Rock organized elements into consolidated fan base, to defend against the growing threat of Hippie and Jock related violence. "Crop Dusters" and "Rock Patrol" roving about the Beach cities was a real problem for our scene at that time. Thus, the name "Social Task" was born. With increased street violence drawing the attention of local law enforcement, unprecedented profiling of punk rockers was now unfolding into downright police harassment. So, it seemed in the face of these threats, most of the fan base began to make the trek north into the Los Angeles club scene. In those days, there was competition in the Slam pits for domination with neighboring cities of which the Beach city reputation for violence began to spread like wildfire. By 1979, The Outsiders, The Klan, The Idols, Fourth Reich, The Slashers and Non-Fascists had broken up and many of the members were now forging new concepts brought back from the L.A. scene. It was from this new concept, that bands like China White, The Blades, and Social Task had sprung out creating a new sound melded with elements of previous composition written to create that very unique and distinctive Beach city (Orange County) sound. Don Snell, had just left The Idols and began collaborating with Jeff Milucky, and John Blake and working on some new songs and trying out several singers. Meanwhile, Slashers vocalist Scott Sisunik, had been in The Non-Fascists and forming up the earliest China White lineup with Frank Ruffino and Marc Martin, and introduced James Rodriquez and Skitch-blade.
Social Task proved to be short lived and disbanded around the beginning of 1981. In December of 1979, the band recorded a five song demo at Adamo's Audio which was a studio used by Warner Brothers. The band left the reel at Adamo's Audio and forgot all about it for years. Fast forward to 2007 and the discovery that Adamo's Audio was still in business and actually still had the reel! Artifix Records began making plans with Social Task to bake and transfer the reel and put it out on vinyl.
Artifix Records will be releasing an eight song 7" EP with the following material:
December 1979 Adamo's Audio studio tracks: DR1 & DR2 (a.k.a. "Yellow Streak"), Don't Detain, This Is Me, Working Girls.
Summer 2007 new studio tracks: Public Reaction, Self-Inflicted, Dangerous (these three songs are actually vintage songs that the band never got a chance to record 'back in the day')
Artifix Records is proud to unveil the original 1979 tracks as well as give listeners a taste of what the new Social Task sounds like today.