Out Now!
a
Here is the original line-up shot: Al, Brad, Mike, and Dash

The Reactors first formed in 1978. They played their own brand of fast, raw, and desperate punk rock in the unlikely urban city of San Bernardino, CA. The Reactors existed from 1978 until 1982. During that time they released one 7" EP and one 12" LP on their own Nuclear Waste Records label. Believeing in the D.I.Y. spirit of the times, they did everything for themselves. The members and their close friends all took different jobs in order to further their goals. Some took photos, created artwork, did layout, produced the recordings, etc. Artifix Records is proud to be the label that will unleash all of their recordings in the near future.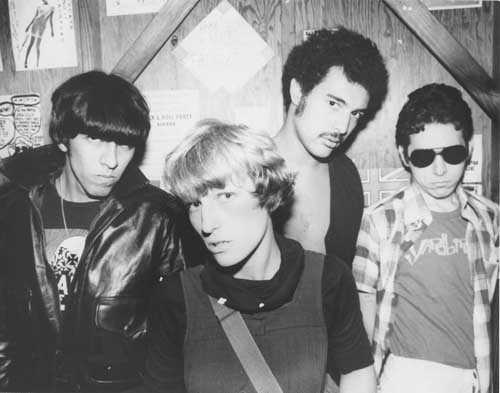 Pictured above is the original 7" EP line-up: Mike, Dash, Rob, and Al

The Reactors lasted through several line-ups. The first Reactors before the 7" EP were Mike Rodriguez, bass; Al Zenno, guitar; Brad Uhl, drums; and Elizabeth "Dash" Frost, vocals. For the 7" EP, the lineup changed when drummer Brad left the band and was replaced by "Throbbin" Rob Vasquez. In early 1980, Al Zenno left the group. The remaining members recruited guitarist Tony Brammel, who was in the Sins and later helped form soul-rock alternative band, the Bell-Rays. The last edition of the Reactors consisted of a three piece: Dash, Mike, and any durmmer they could find.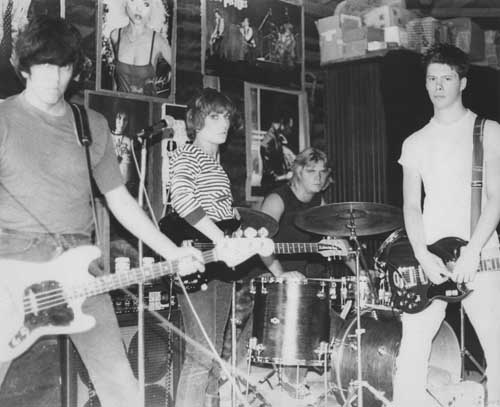 Above is the LP line-up: Mike, Dash, drummer, and Tony

The Reactors shared bills with many great bands of the time including; X, Fear, Plimsouls (at a prison show!), Simpletones, Crowd, Alleycats, Smog Marines, and more!
Recently, their records have garnered much attention from the ranks of "Killed By Death" punk collectors. Their 7" was released in a rare pressing of 300 copies with two known cover variations. Their LP is almost as scarce.
Artifix Records has acquired all of their tapes and is in the process of sorting out their material for release. Watch for a CD some time in early 2009.